The body shop was founded in 2004 with the intent to support and complete the business cycle was leaving. In this department we are dedicated large, bright and appropriately redefined spaces equipped with the best equipment that are perfectly integrated in the architecture business. That's the advantage of being born within an organization proven over time with already excellent heritage of customers, coupled with the manual skill of the artisan school of our body shops, which ensures the guarantee of superlative quality repairs. The continuous interaction with other sectors, the cornerstone of our business philosophy, also guarantees a reduction of downtime in the repair process, the workshops involved if the repair requires mechanical / electronic interventions, agencies when necessary to manage the bureaucracy and assistance legal, spare parts warehouses manage orders, the technical departments supervise continuously the whole process was leaving, the rental departments with solutions tailored reset all the inconvenience caused to the stationary vehicle.
Finally to complete the repair of advanced equipment testing centers monitor and certify the proper functioning of all parts of the vehicle, in order to give you back an absolutely safe and reliable vehicle.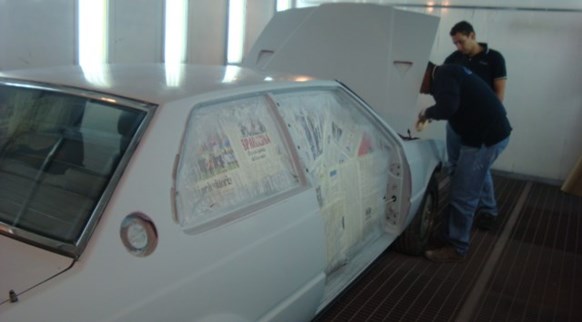 12 months warranty on the work carried out
Ratio of diagnosis of the damage and the extent of the body: our bodies where necessary perform the computerized measurement of the car chassis, and transmission of the suspension arrangements, releasing at the end of each repair a guarantee certification of the work, carried out in workmanlike.
Oven painting and drying system IR
In paint shops is present a drying plant of the latest generation infrared rays that allows to use the same paint technology of the first plant of the automobile manufacturers. Computerized tinting machines manage the mixing of paints to achieve the perfect original color.
Precision bench for the repair of body
The technologies, allowing the measurement and control of millimetric bearing body and its mechanical parts, enabling us to achieve a perfect straightening, bringing the car to its original condition.
Restoration of vintage vehicles
We can revive completely vehicles severely damaged by time and neglect by ensuring the originality of the restoration and certifying the restoration itself, our extensive database, the flagship of our technical departments, provides an abundance of specific documentation of cars now unobtainable.